Why Josh Robinson Is the Indianapolis Colts' Best Bet at Backup Running Back
By Kyle J. Rodriguez,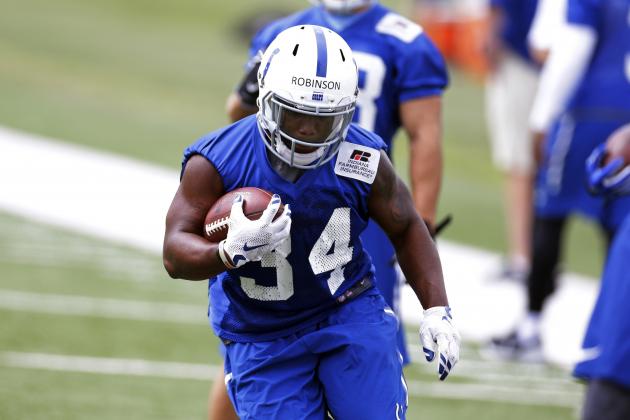 Michael Conroy/Associated Press
As somebody on the hit HBO television series Game of Throneswould tell you, Frank Gore being the Indianapolis Colts' first running back is known.
It is known.
"Frank Gore's going to play a major role in this team; that's why we brought him here," Colts owner Jim Irsay told Zak Keefer of the Indianapolis Star on Wednesday. "That offense has the potential for greatness."
But the Colts also know the importance of rest for veteran players, having seen several tail off in the playoffs over recent years, and they know that Gore is no spring chicken. While Gore is the lead back, expect the Colts to use much more of a committee than one might expect with a younger version of the longtime San Francisco 49ers running back.
Gore has averaged more than 250 carries per season as a starter, but the Colts likely won't see anybody approach that number. Instead, expect the Colts to get a decent chuck of production from that second running back spot in order to help save Gore's legs for a potential postseason run.
So who will earn that backup role? The incumbent is Dan Herron, who accomplished quite a bit in his half of a season last year. There's a wild card in Vick Ballard, the Colts' starter as a rookie in 2012, but his past injuries make it impossible for us to realistically compare him at this point.
Then there is the newcomer, rookie Josh Robinson out of Mississippi State. Had the Colts spent a higher pick on Robinson, he would likely be the front-runner over Herron, but as a sixth-round selection, Robinson's not even a sure-fire pick to make the roster.
Of course, it's not like Herron has a more impressive pedigree. Herron is 26, old for a player who had just nine total career carries before last year. Herron was a sixth-round pick back in 2012, but he was waived at the end of training camp. Herron would go on to sign onto the Cincinnati Bengals practice squad in 2012 and 2013 before the Colts signed him in October 2013.
Those years of lingering on the practice squad and slogging through backup minutes in Indianapolis do give Herron an edge in experience, however, something that is critical for a back early in his career. This is especially true in an offense that is as involved as Pep Hamilton's, and it could be a key factor in Herron winning the No. 2 spot early in the season.
But over the course of the season, Robinson is the best bet for Indianapolis, as he represents a much higher ceiling and a chance to be a long-term piece in Indianapolis.
For example, Herron built a reputation of being a quick, elusive back last year, used often in the passing game and picking up yards in the open field by making people miss. But Herron actually had below-average broken and missed tackle stats. His 31.1 Elusive Rating from Pro Football Focus would have ranked 27th out of 42 starting backs last year, just two spots ahead of an aging Gore.
Especially low was his 2.05 yards after contact per carry. Herron's strength running in traffic was nonexistent, something that Robinson has a chance to capitalize on.
Robinson is much more like Gore in that sense; he can break tackles and keep moving forward with the best of them. In his final year at Mississippi State, Robinson had the second-best elusive rating in the country at 94.2, including averaging 3.54 yards after contact, per Pro Football Focus.
A lot of this is due to his strength, but Robinson also has excellent lateral agility and balance for a man with his squat frame (5'8″, 217 lbs), and he uses it well, especially in crowded areas near the line of scrimmage.
Take this run against LSU, for example.
DraftBreakdown.com
Robinson takes a handoff from the shotgun on a draw play and finds himself having just enough space to squeeze through up the middle before his left guard loses his block.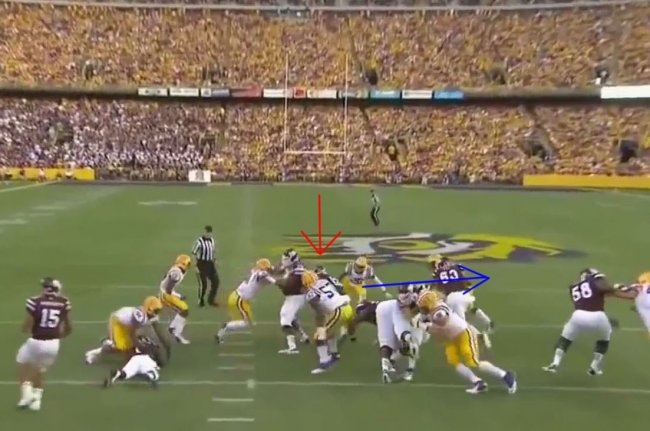 DraftBreakdown.com
On the second level, Robinson is met head-on with a linebacker, but he stops on a dime and shuffles to his right, where he finds all kinds of open space. It's not the most explosive move, but he sees the open space and manages to keep his balance through the traffic to pick up a lot of extra yards. You can view the whole run here.
Another area that will be key for Robinson to be able to pick up snaps quickly is his ability to catch the ball out of the backfield. Like Gore, Robinson has soft hands and transitions into running after the catch quickly and smoothly.
Herron can catch out of the backfield as well, but his two drops in the AFC Championship Game were costly ones that the coaching staff will remember.
Throw in pass protection, where Robinson showed a base ability that can be refined with coaching, and you have a well-rounded back with a higher upside when it comes to picking up extra yards in traffic. Robinson is a sixth-round pick, yes, but he's one who could become a lead back in the future, something that doesn't look to be in the future for Herron.
Robinson compares favorably to Gore, making him the ideal understudy in the Colts offense, especially as the season goes on and he becomes more familiar with NFL speed and the playbook. Herron's experience may give him the edge early on, but Robinson is the long-term hope, and he should get opportunities because of it.